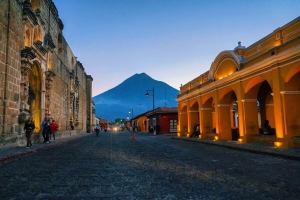 Guatemala may be your next vacation destination if you dream of trekking through the lush jungles, discovering ancient Mayan ruins, and exploring volcano-filled landscapes. 
However, with so much talk about safety being a potential concern when traveling, you are unsure if Guatemala is safe to travel. Is it okay for tourists to visit this 2023? It can take time to decide whether or not now is a good time to go! 
If you're trying to plan your next big trip to Guatemala, we'll break down everything there is to know about traveling safely in Guatemala, as well as provide some insight about this wonderful country. So kick off your shoes and settle in as we explore all that's available beyond these borders!
Guatemala is an Immaculate Latin American Country to Visit
Are you one of the travelers that are having doubts and wondering: can I travel to Guatemala right now?" or "is it the best time of the year to explore this destination?" In a nutshell, yes! Guatemala is a safe cuontry to travel to and explore. 
Guatemala is a beautiful country with magnificent sights you don't want to miss out on exploring. Even though the country is at risk of natural disasters, it's best to plan and choose a date when you won't experience these issues. It's better to be prepared than not to enjoy Guatemala's experience, such as colonial towns and archaeological sites.
Moreover, it has many cultural and historical attractions you would want to take advantage of. It's even more than any other country in Central America right now. So it's no surprise that many people choose to go to this country first because of everything it has for travelers to enjoy.
So if you're looking for the best things to do while you're in Guatemala, take a look at the short list below:
Sightseeing in Antigua

Go on a nature trail walk

Go to Lake Atitlán

Take time to check out Xela (Quetzaltenango)

Shop at Chichicastenango Market

Swim or surf in El Paredon

Don't miss the Mayan Ruins of Tikal

Explore the wilderness near Rio Dulce

Try out the melting pot of cultures In Livingston

ATV mountain adventures

Day trip to Guatemala City

Take a Lake Atitlán Villages tour

Private tour of Capan Ruins

Try the mouthwatering Guatemala street food with an expert

Take a Guatemalan cooking class
These are just some things you should add to your checklist once you're in Guatemala. It will genuinely rekindle your wanderlust as you escape the daily stress and hectic lifestyle you encounter. 
So if you want to give yourself a retirement gift or just something that will keep your thirst for travel at bay, Guatemala is a stunning Latin American country to put on your bucket list.
Is It Safe to Travel to Guatemala
Right Now?
Even though Guatemala is known for its high rate of violent crimes, it's still a generally safe place to visit. Of course, you must exercise precaution as a tourist to avoid being a victim of these crimes. Furthermore, most crimes that visitors encounter are petty crimes, which is a common occurrence in crowded areas when they travel to Guatemala.
To be sure that you won't experience any mishaps during your trip to Guatemala, it's best that you follow these safety advisories for your protection and well-being:
For those wondering if it's okay to

travel to Guatemala covid

, read the

Embassy COVID-19 page

for country-specific COVID-19 information.

Use certified tourist companies or providers before traveling to different places in Guatemala.

Travel from your hotel to different attractions in Guatemala during daylight hours only.

Don't leave your drinks unattended in bars.

Find accommodation with secure parking.

Request for security escorts from the Guatemalan Tourism Institute for tourist groups.

Avoid walking or driving at night.

Be aware of your surroundings.

Avoid taking public transportation, especially white car taxis.

Don't physically resist a robbery attempt.

Avoid using public ATMs.

Prevent displaying signs of wealth.

For U.S. citizens, enroll in the

Smart Traveler Enrollment Program (STEP)

to receive Alerts.
Whenever you travel to places with high crime rates, it's best to have a contingency plan. So you must have a Traveler's Checklist before leaving your country to ensure your safety and your family if you bring them with you.
Choosing a Reputable Touring Company for Your Vacation in Guatemala
Now you know the answer to the question "is it safe to travel to Guatemala?", you shouldn't think twice about looking for a tour company that can provide you with the best deals without emptying your bank account. A vacation should be something to remember, not something that will force you to shell out your money.
When searching for a reliable company for your travel destinations, Caravan is an outstanding tour guide you can rely on. They have low offers, which are suitable for budget travelers. In fact, they're known as the "Costco of tour companies" because of their budget-friendly deals available for a wide range of destinations.
Our rates include the following:
Safe and comfortable lodging

Tasty foods

Safe transportation

Numerous fun activities
You won't think twice about booking with them since they have many other Latin American tours. Their most popular destinations are Mexico, Costa Rica, and Panama! With great itineraries produced by expert tour directors, you would want to ensure you get them all. So if you're planning a trip to Guatemala, don't hesitate to choose Caravan as your new tour guide company.
Book your Guatemala Trip Now with Caravan Tours
Are you ready to find some fantastic and thrilling places to go to in Guatemala? Do you want to avoid the daily stress life is giving you every day at home? Now's the perfect time for you to escape and enjoy this wonderful Latin American country since it's generally safe for travelers. Through Caravan Tours, you can experience authentic culture without the hassle.
So if you're thinking of booking a tour with us, don't hesitate to contact us today. We have plenty of recommendations, and we can answer all your questions. Call us now at 1-800-CARAVAN or +1-312-321-9800 for an unforgettable Guatemalan vacation.
https://blog.caravan.com/wp-content/uploads/2022/06/caravan-header-white.svg
0
0
Brendan Duffy
https://blog.caravan.com/wp-content/uploads/2022/06/caravan-header-white.svg
Brendan Duffy
2023-03-08 01:17:21
2023-09-27 14:57:41
Is it Safe to Travel to Guatemala Right Now? Your 2023 Outlook