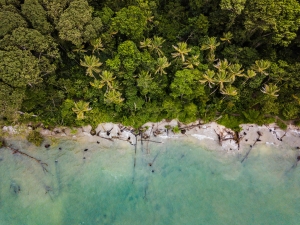 Paradise, it's what people imagine when they go on a vacation. It's their ideal environment for escaping their hectic and dull schedules. That's why many travelers visit Central America because it's abundant with places that many people already consider paradise. And one of them is Costa Rica.
Costa Rica is a Latin American country that is generally safe for travelers. As long as you're wary of your surroundings, you will experience unique cultures, diverse cuisine, and historical architecture that you would want to experience. 
From lush rainforests to sandy-white beaches, it will never fail to give you the feeling you've longed for happiness. But what to do in Costa Rica once you get there? Is it worth it? Let's find out.
What Makes Costa Rica So Special?
Costa Rica is one of the world's most beautiful countries, and its people are renowned for their hospitality. It is a great place to visit, with many attractions that make it truly special. 
One of the things that makes Costa Rica unique is its biodiversity – it has more species per unit area than any other country in the world! It also has incredibly diverse landscapes, from majestic mountains to stunning beaches. What's more, Costa Rica boasts some of the best surfing spots in Central America, making it an ideal destination for water sports enthusiasts. 
Aside from the natural attractions Costa Rica provides to weary tourists, they also have wildlife far from Western countries. For instance, they have macaws and sea turtles, which animal lovers will want to see.  
It's best to put Costa Rica on your list. This country won't disappoint you, especially when looking for activities everybody can enjoy. From food to nightlife, this paradise is worth spending money on. It's where you can soak in its culture and make memories to last for a lifetime. So don't miss the best things to do in Costa Rica and explore its astounding beauty.
The Top Things to Do in Costa Rica Right Now
With so many things to discover in Costa Rica, deciding what is there to do in Costa Rica can be challenging. So if you're planning to go there, you should have a list to check if you've exhausted all your ideas once you've arrived.
To give you some beautiful things to do in Costa Rica, check out the list below.
Breathe In the Fresh Air on the Caribbean Coast
One of the most famous tourist destinations in Costa Rica is the northern part of the Caribbean Coast. It's teeming with national parks, which you and your kids will love to see. Of course, it's filled to the brim with beaches that the younger generations and even older adults can enjoy because it's the ideal place to laze around and get the perfect tan.
One of the national parks you must go to is Tortuguero National Park. They have a marked trail, primarily used to watch the sea turtles without disturbing them. You can also rent a canoe or a kayak if you want to get your muscles worked out.
Visit Costa Rica's Highlands
The highlands is where you'll find the Cloud Forest. It's humid up there but also moist due to the consistent cloud coverage the area gets. It's prevalent for birdwatchers as hundreds of species of birds live in the area. If you love to watch and just discover what kind of birds are out there, visiting these cloud forests should be on your bucket list.
Another activity you can do is to go ziplining at Monteverde Rainforest, which is just one of the many cloud forests in the highlands. But if you're not a fan of ziplines, you can just walk on the long suspension bridges and admire the greenery surrounding the area.
Don't Forget About San José
San José is the capital of Costa Rica, and it's located in the middle of the country. Here, you will discover tons of things that make Costa Rica spectacular. So if you're wondering what to do in San Jose, Costa Rica, you no longer have to doubt since it's rich in nightlife and street foods you'll enjoy.
Apart from that, many young entrepreneurs and brewers are opening their restaurants and bars in the city. So there are literally tons for you to check out. Apart from that, art and history enthusiasts will fall in love with the museums, art galleries, and historic buildings the country is preserving.
In addition, the city is seeing an influx of new eateries and watering holes from young business owners and brewers. Aside from that, the country's museums, art galleries, and historic buildings will win over the hearts of art and history buffs.
Dive Into the Mouthwatering Cuisine
Another reason to visit Costa Rica is due to its delicious food. Unfortunately, many tourists need to pay more attention to the different types of food they offer. However, you'll never want to look back once you dive into these dishes. Moreover, they have lots of choices you can try.
Some of the most popular dishes are pejibayes and arreglados. And as mentioned before, many young chefs are opening their restaurants or breweries in the capital to give locals and tourists something to look forward to after a day of traveling to Costa Rica.
Relax in the Hot Springs
Apart from beaches, Costa Rica has some of the most remarkable hot springs you will ever see. One example is the Tabacon Hot Springs, which is near Arenal Volcano. However, there are plenty of less crowded hot springs for you to check out, especially if you want to relax.
Many claims that hot springs provide numerous health benefits, particularly for the skin. Find a hot spring in Costa Rica that you'll want to visit if you're up for this kind of experience.
Book Your Trip to Costa Rica with a Reliable Tour Company Like Caravan Tours
It's time to book a tour with a reputable company that provides the best deals for your Costa Rica adventure. One of them is Caravan Tours, which is self-proclaimed as the "Costco of tour companies." Here, you can find tour packages that will keep your bank account.
Their standard inclusions in their rates are accommodations, food, activities, and transportation. So you know that you're in good hands. We have a wide array of Latin American tours to choose from! Some countries you should consider are Guatemala, Mexico, and Panama.
Do you think you're ready for some wild adventure in Costa Rica? Call us at 1-800-CARAVAN or +1-312-321-9800, and we'll assist you immediately.
https://blog.caravan.com/wp-content/uploads/2022/06/caravan-header-white.svg
0
0
Brendan Duffy
https://blog.caravan.com/wp-content/uploads/2022/06/caravan-header-white.svg
Brendan Duffy
2023-03-08 01:06:32
2023-03-08 01:06:32
Top Things to Do in Costa Rica