The Best Places to Visit in Costa Rica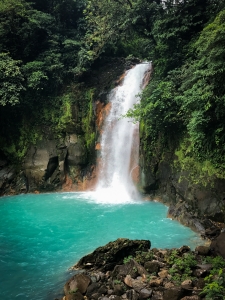 Have you ever wanted to explore stunning rainforests teeming with exotic wildlife or perhaps lie on powdery white Caribbean and Pacific beaches? Then visiting Costa Rica is a must! With its vibrant cultures, incredible flora and fauna, tropical climate, and abundance of outdoor recreational activities – this Latin American country offers something for every type of traveler. 
With so many attractions in this Latin American country, choosing the best places to visit in Costa Rica might be challenging. You might be unsure where to begin, especially if you're a first-time visitor staying as a retirement gift or for a brief vacation.
So, if you're considering visiting this Central American country, compile a list of places to visit in Costa Rica before flying. It's always wise to be prepared, especially if you want to make the most of your experience.
What Makes Costa Rica Stand Out?
Costa Rica is one of the most popular countries that many people consider paradise. You can never go wrong here with its lush tropical jungle, fantastic wildlife, delicious food, and pristine beaches. Plus, they have numerous attractions that you should check out to make your time worthwhile.
Apart from the culture Costa Rica offers, the people here are welcoming and warm. So you won't have difficulty adjusting and just making friends with the locals. They can even give you some solid advice as a traveler there. So if you're looking for the best places in Costa Rica to visit, don't hesitate to ask them.
Overall, Costa Rica is a wonderland for nature lovers and wildlife enthusiasts. Plus, the younger generations and even older adults can enjoy its beaches, which this country is most famous for.
The Best Tourist Attractions in Costa Rica 
As someone unfamiliar with Costa Rica, you must bring a list to know which ones you should take advantage of. Of course, you want to ensure that your time there is well-spent. So consider some of the best places to visit in Costa Rica with your family. Check out our short list below.
Manuel Antonio National Park
National parks are abundant in Costa Rica, and there is so much to visit if you stay there for a month or more. But if you only have a few days, don't hesitate to explore Manuel Antonio National Park. It's a top destination if you're into admiring their local wildlife. It's located at the edge of the town called Manuel Antonio, which is also home to soft-sandy beaches.
Some animals you'll encounter in this national park are howler monkeys, capuchins, sloths, and squirrel monkeys. They live there peacefully, and they are purely for viewing. It's also the best place to take your family, especially if you have kids, as they can learn many things here.
Volcan Arenal
If you're into volcanoes, then don't hesitate to get a taste of Arenal Volcano. It's located at the Cordillera de Tilarán, one of the most popular hotspots tourists visit to view the infamous volcano. However, you might be alarmed by the ashes that frequently steam from the mouth of the volcano.
Arenal Volcano became dormant in AD 1500. However, it erupted on July 29, 1968. This dangerous eruption killed a total of 82 people and destroyed two villages. Since then, it has become active, and tourists occasionally see a cloud of ash or glowing red lava flowing from the crater.
Cahuita
Are you looking for a place to relax or unwind for a day? Then Cahuita is the best place to be. It's a little town near a national park with the same name. In this town, one bar is usually filled to the brim with either locals or tourists. So after a day of hiking, day tripping, swimming, or just lazing around, Cahuita is where you should go to take a breath and relax.
Afro-Caribbean tastes also influence their dishes. You might notice it in the food they serve. It's the best town to stay in if you want a simple day without all the hustle and bustle of the city.
Playa Minas
Sea turtles are nature's stunning gift, which we should treasure. They can live for hundreds of years, and they're very gentle. In Playa Minas, you can get a closer look at these creatures by visiting the local hatcheries. You'll be able to marvel at the beauty that is already ingrained in their nature.
Make sure to schedule your plan ahead for the annual nesting season. It takes place at night, so you must arrive at sunset to see the stunning action live. It's on a peaceful secluded beach, and the atmosphere is even more marvelous because there's a blanket of stars upon you.
Monteverde Cloud Forest Resort
Costa Rica is home to cloud forests, which are humid but still covered in moisture due to their high cloud coverage. And one of the most special forests you must spend time in is the Monteverde Cloud Forest Resort.
This place is unique because you can isolate yourself from nature while being close to amenities that will maintain your comfort and overall experience. They have hiking trails and outstanding waterfalls that you might like to marvel at while seeing all kinds of animals.
It's the perfect destination for outdoor lovers who love to see the lush rainforests while seeping on their delicious coffees. Yes, this resort has numerous charming cafes you can watch out for. It's the ultimate Costa Rican experience you'll never forget.
Book Your Travel to Costa Rica with Caravan Tours Now
Are you searching for a trustworthy tour company that can provide you with everything you need without emptying your pockets? Then you're lucky because Caravan Tours offers travel packages for budget travelers. Plus, we offer a wide range of destinations you want to add to your bucket list.
We're known as the Costco of tour companies, but we always provide good value. Our rates include accommodations, food, transportation, and an itinerary produced by touring directors. Call us at 1-800-CARAVAN or +1-312-321-9800 if you're ready to plan the vacation of a lifetime.
https://blog.caravan.com/wp-content/uploads/2022/06/caravan-header-white.svg
0
0
Brendan Duffy
https://blog.caravan.com/wp-content/uploads/2022/06/caravan-header-white.svg
Brendan Duffy
2023-03-08 01:03:23
2023-03-08 01:03:23
The Best Places to Visit in Costa Rica