Is it Safe to Travel to Costa Rica Right Now? Your 2023 Outlook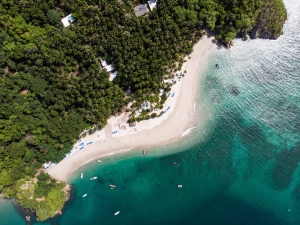 Traveling used to be so much fun till COVID-19 arrived. However, things are slowly getting back to normal. So now is the ideal opportunity to rekindle your wanderlust. Costa Rica is one of the top destinations to visit in Latin America. But, like everyone else, you may be wondering, "is Costa Rica safe?" and what this country has in store for you.
So if you're considering a trip to this historical Latin American country, it's best to know what's new and if it's a generally safe place to spend your vacation. Is it worth your money? How safe is Costa Rica? Well, now's the right time to find out.
Is It Safe in Costa Rica as a Tourist?
As someone who's not broadly familiar with Latin American countries, is it safe to travel to Costa Rica and if it has a high crime rate? 
According to the 2022 Global Peace Index, Costa Rica ranks 38th overall as the region's most peaceful and safest place. On the other hand, the USA ranks 129th. But as a tourist, you'll want to exercise some precautions since you want to be extra safe while you enjoy your surroundings.
Some essential travel advisories you can follow are the following:
These are just some preventive matters you must remember before traveling to the country for the best experience. It's better to have a contingency plan than to have no clue at all if emergencies happen.
Becoming a Tourist in Costa Rica
You'll want fresh air if you live in a city where all you see is concrete and bustling streets. Fortunately, Costa Rica has tons of fantastic scenery and experiences to offer. Mountain views, tropical jungles, streets filled with laughter, and breathtaking beaches are what you can expect when you visit this wonderful country.
No matter your budget, there are tons of fun activities for you and your loved ones. Costa Rica offers adventurous escapades you will love, even if it's just for the thrill or if you genuinely want to try something new. Furthermore, it's every nature lover's paradise. Being thousands of miles away from a stressful environment will do you good once you plan to visit this wonderful country.
The best part is that there are hordes of retired Americans living in Costa Rica because of how affordable everything is. It's the ideal paradise for someone who's been living a hectic life and wants something new for a change. 
Common Scams You Might Encounter in Costa Rica
Even though Costa Rica is generally safe for tourists, there are still scams you must watch out for. Knowing beforehand will help you have an unforgettable vacation in this lovely country. But don't worry; you must be wary of only a few.
Transportation Scams
If you're traveling alone or with a family without using a touring company, you'll need to rent a vehicle to make it easier for you to get around. However, once some transportation rentals find out you're a tourist, they might take advantage of you.
Apart from that, there are slash-tire scams where two persons from a car behind you will signal that you have flat tires. But in reality, they already slashed your tires while at a red light or while you're driving slowly. It's their way of getting you to stop so they can rob you. For safety, check your tires once in a while in a parking lot full of people. Remote areas are not recommended.
Cheap-Tour Scams
Again, this applies to people who are traveling solo without the help of a reputable touring company. Cheap tour scams are prevalent. While sightseeing, a well-dressed individual approach you and invites you to their too-good-to-be-true tours. After that, they trick you into giving them 50% of the deposit.
But while waiting for them to pick you up the following day, no one shows up. That's when you realize that you have been scammed. To avoid this kind of fraudulent transaction, book with a reputable company that will take care of the itinerary for you beforehand. It's best that you already have an itinerary to follow!
Choosing Caravan for Your Next Tour in Costa Rica
As mentioned above, the cheap tour scam has tricked countless tourists. Therefore, before even leaving your country, it's much better to find a touring company that provides you with everything you need while you're touring or vacationing without spending more than what you want to pay.
Caravan is the most trusted and reliable travel company, which offers the best rates. We're the "Costco of All Touring Companies" and are well-known for our excellent travel and vacation packages. Plus, best value for money inclusions without the add-ons to worry 
What Caravan's tour packages include:
Accommodations

Transportations

Food

Fun Activities
Moreover, it's ideal for those on a budget who want to experience Costa Rica without the hassle. So if you're looking for a reputable touring company, consider Caravan because of their excellent value, a wide range of destination offers, and broad appeal.
Time to Book that Tour to Costa Rica Through Caravan
The answer to the question, "is Costa Rica safe to travel to?" is simple. Costa Rica, in general, is a very safe country to visit among other Latin American countries. That's why tourists flock to this paradise each year. And if you want a taste of this tropical country, it's best to find a reliable touring company beforehand.
At Caravan, you can expect a lot of beautiful inclusions that will make your trip worthwhile. So if you have any questions or want to book for this year, contact us today at 1-800-CARAVAN or +1-312-321-9800! We'll find the right option that will fit your budget and preferences.
https://blog.caravan.com/wp-content/uploads/2022/06/caravan-header-white.svg
0
0
Brendan Duffy
https://blog.caravan.com/wp-content/uploads/2022/06/caravan-header-white.svg
Brendan Duffy
2023-03-08 00:50:38
2023-03-08 00:50:38
Is it Safe to Travel to Costa Rica Right Now? Your 2023 Outlook