The Best Hotels in Copper Canyon, Mexico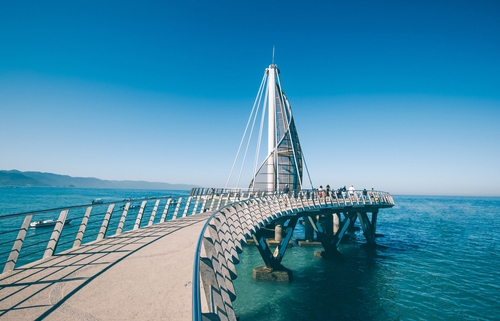 Finding the perfect hotel is crucial to any vacation, whether visiting the awe-inspiring drops of Copper Canyon or the white sand beaches of the Bahamas. If your travels will soon take you south of the United States border and to the beautiful copper ravines of Copper Canyon, you'll need a place to stay. Here are a few of the best Copper Canyon, Mexico hotels.
Copper Canyon Overview
Copper Canyon, or Barrancas del Cobre, consists of several large canyons stretching for many miles as part of the Sierra Madre Occidental of Northwestern Mexico. Its impressive depths have been carved over many years by rivers that meet to create the Rio Fuerte. This river winds along the canyon, eventually spilling into the Gulf of California.
The combined length of its ravines is four times larger than the Grand Canyon in the United States, making it a must-see. It even boasts deeper ravines than the Grand Canyon, with some gorges plummeting over a mile from the rim towering above.
Despite its name, the Copper Canyon isn't full of copper. While there are a few small-scale copper mines in certain areas, this area has primarily produced silver and gold, helping to make Mexico the world's largest producer of silver. Instead, the name comes from the reddish hue of the rocky outcroppings and plunging drops.
This canyon is home to over a dozen remote towns and the Tarahumara people, an Indigenous group known for extraordinarily long-distance running. Many wild animals reside in the rocky depths, including black bears, pumas, white-tailed deer, otters, and hundreds of bird species.
The Best Hotels in Copper Canyon
Copper Canyon and the surrounding cities have plenty to offer, from hotels and restaurants to activities and entertainment. You'll need somewhere to go after a lively day of fun, so here are a few options to consider.
Hotel Divisadero Barrancas
Nestled in Chihuahua, Mexico, this cozy Copper Canyon hotel is perfect for those who don't mind rustic simplicity in exchange for jaw-dropping views. Hotel Divisadero Barrancas offers modest, rustic-styled rooms with the basics, but the views make up for the simplicity. The hotel is positioned mere feet from a plummeting ravine, so the rooms have exceptional views overlooking the canyon.
The restaurant offers simple but delicious cuisine, and a nearby walking path provides the perfect place to take a sunset stroll after dinner.
Hotel Mirador Posada Barrancas
Perched on the canyon's rim, this hotel boasts spectacular canyon views below. Warm lighting and rustic decor lend a cozy, inviting feeling to common spaces and rooms. The rooms feature exposed beams, warm lighting from bedside lamps, and rustic themes. Balconies off many of the rooms offer privacy to wind down in the evening and enjoy the breathtaking view.
Exceptional meals await you in the dining room, each carefully planned to ensure a finite balance.
Hotel Mansion Tarahumara
Like previous options, this hotel rests atop the canyon rim, offering breathtaking views of the ravines below. The rooms are small but cozy, featuring a rustic style with everything you need and nothing you don't. A restaurant, laundry, swimming pool, hot tub, gym, and conference room are available for guests visiting the hotel for optimal convenience.
This hotel is mere minutes away from lively attractions, including the Divisadero Train Station and the Adventure Park, which boasts a zip line and tram into the canyon.
Hotel Parasio del Oso
This charming hotel features quaint rooms ranging from compact and large enough for one or two people to massive rooms with enough beds for an entire family. The dining room and lobby area feature a display of Tarahumara artifacts and rustic decor.
Plenty of activities are available to occupy your time, from scenic drives and sightseeing tours to horseback rides and nature hikes. Each stay includes all meals, wireless Internet, and transfers to and from the Bahuichivo train station.
Hotel San Felipe del Real
This boutique hotel is based out of a historical property built in 1884, featuring cozy accommodations with just six suits available for up to 14 people. Each room features different decorations, with old furniture and antiques adorning the space.
A peaceful library offers solace from the chaos of daily life, while the gardens invite you for a calm interlude. Breakfasts are available, featuring eggs, ham chorizo, fruit, toast, coffee, and more, but nearly two dozen restaurants are within walking distance if you want something different.
Copper Canyon Riverside Lodge
The Copper Canyon Riverside Lodge takes visitors back in time, featuring numerous antiques, period art, and old furniture. This hacienda has rums on multiple levels, with gardens teeming with tropical plants scattered throughout. It's tucked in the small town of Batopilas, situated at the bottom of Copper Canyon.
The road to Batopilas isn't for the faint of heart, though, as it's full of steep switchbacks and plummeting drops to one side. While the road was previously made of dirt, it's since been paved. If you enjoy adventure and stepping out of the norm, this lodge might be the perfect place for your stay.
Choosing the Right Hotel
You'll probably spend roughly half your time in your hotel (at night), so choosing suitable accommodations is essential. As you search for the perfect Copper Canyon hotel for your needs, there are a few things to consider.
Budget
Before you start browsing, determine how much you want to spend per night to stay in a hotel. If you're working on a tight budget, filter the results by setting a nightly limit. This way, you won't fall in love with a cozy hacienda that is out of your price range.
Location
Consider the hotel's location and proximity to restaurants, shopping, and activities. Public transportation is typically available, but it's best to think things through. Do you want to be able to walk to a restaurant for breakfast? What activities do you plan to do, and how will you get there?
Each answer will help you determine the perfect location for your stay.
Amenities
If you prefer any particular amenities, like a swimming pool, gym, or conference room, keep that in mind as you search. Many of the smaller, family-owned hotels in this area don't have the amenities common in chain hotels, so unless you plan to stay in a large hotel, you might need to look for a while before you find one with the amenities you want.
Availability
Remember to book your hotel in advance, as availability may vary based on the hotel you choose and the time of year. Some hotels in this area are quite small and fill up fast, so plan ahead to ensure you can stay in the hotel you want.
Guest Reviews
Take a few minutes to browse through guest reviews on each option you consider. These reviews can contain valuable tidbits and helpful insights that can help you determine whether the hotel is the right fit for you.
Travel Tips for Copper Canyon
Before you visit Copper Canyon, there are a few things you should keep in mind, including the best times to visit, transportation options, and safety considerations.
Best time to visit: While Copper Canyon boasts incredible views year-round, September through April is the best time to visit. You'll miss the rainy season, the mosquitoes, and the sweltering heat.
Transportation preparation: Buses, trains, and taxis can take you to Copper Canyon, although availability can vary based on where you stay. When planning your trip, browse through available transportation options in that area.
Cultural sensitivity: Before traveling to Mexico, familiarize yourself with its cultures and customs to ensure you can practice cultural sensitivity there.
Health considerations: As when traveling to any foreign country, preparing for your visit to Mexico is crucial. Learn where the nearest hospitals are, bring bug spray if you visit during mosquito season, and be cautious of the heat.
Safety considerations: Always remain alert and aware of your surroundings and avoid wearing signs of wealth, such as luxurious clothing or expensive jewelry.
Enjoy a Guided Trip to Copper Canyon
Don't want to worry about finding lodgings for your stay in Copper Canyon? Want to learn more about this stunning area and hit all of the best spots in just over a week? A guided tour might be the perfect fit for you.
Our Mexico Copper Canyon train tour takes you through the beautiful rocky outcroppings of Barrancas del Cobre, whisking you through a scenic train ride, floating the El Fuerte River, and enjoying the historic cities in the area. Ready to book a trip? Call us today at 1-800-CARAVAN or +1-312-321-9800
https://blog.caravan.com/wp-content/uploads/2023/09/shutterstock_1839614017.jpg
342
500
Caravan
https://blog.caravan.com/wp-content/uploads/2022/06/caravan-header-white.svg
Caravan
2023-09-27 19:36:20
2023-10-13 01:18:09
The Best Hotels in Copper Canyon, Mexico