The Top Things To Do In Cancun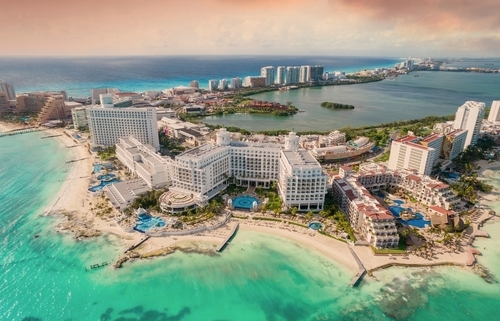 If you've ever asked yourself "what to do in Cancun," you're in the right place. This Mexican gem, renowned for its crystal-clear Caribbean waters, offers more than just beautiful beaches. From breathtaking Mayan ruins to immersive eco-parks, Cancun, Mexico, offers endless possibilities to suit every traveler's taste.
Dismayed at the thought of what to do in Cancun when it rains? Don't worry! Cancun's vibrant culture shines even in a downpour, offering delightful indoor activities such as exploring mesmerizing museums or experiencing traditional cooking lessons.
So what is there to do in Cancun, really? Browse through this comprehensive guide to get a taste of Cancun's charm and find your next tropical adventure. Let's get started!
Explore the Mayan Ruins in Tulum
One of the most iconic attractions in Cancun is the walled Mayan ruins of Tulum, perched on a clifftop overlooking the Caribbean Sea. Tulum was ingeniously designed as a fortified seaport, utilizing towering ocean cliffs for protection on one side and a sturdy limestone wall enveloping the city on the other three sides.
The Tulum Mayan Ruins may be small, but they are undeniably one of the most stunning ruins in Mexico. Their breathtaking location on the cliffside adds to their charm and beauty.
Besides immersing yourself in the fascinating Mayan history, here are some activities you can enjoy:
Take a refreshing swim or relax on the beautiful beach.
Savor some delicious food.
Take a stroll along Tulum Beach Road.
You can actually explore the entire site in about an hour! If you're thinking of checking out the ruins, it's best to go early in the day. The lack of shade and the intense heat can make it a bit uncomfortable otherwise. There's so much to do and experience at Tulum ruins, so take your time and make the most of your visit!
Discover the Wonders of Xcaret Park
So, what is there to do in Cancun after visiting Mayan ruins and beaches? Without a doubt, your next stop should be the extraordinary Xcaret Park!
Xcaret Park is the perfect place to explore and experience the best of nature, culture, and traditions in Cancun. This amusement park in Cancun is one of the first ones, part of the Experiencias Xcaret family, and it's also among the biggest theme parks in Mexico.
This eco-archaeological park offers a plethora of activities, such as:
Snorkeling through underground rivers.
Swimming with dolphins.
Exploring an incredible butterfly pavilion.
The park is a wonderful blend of Mayan culture and nature preservation. It offers a variety of water and land activities, making it an ideal destination for families, couples, and friends of all ages. Inside the park, you can engage in ancient Mayan games, savor authentic cuisine, discover the inviting Caribbean waters, and connect with the beauty of nature.
Unwind at Isla Mujeres
Isla Mujeres, Spanish for "island of women," is a small island off the coast of Cancun. This picturesque island is known for its laidback atmosphere, stunning white-sand beaches, and gorgeous turquoise waters.
From snorkeling with colorful fish to swimming with turtles, Isla Mujeres offers a plethora of exciting activities. Here are some of the top things to do in Cancun:
Take a scenic boat tour around the island.
Enjoy some delicious ceviche at one of the many beachfront restaurants.
Visit Museo Subacuatico de Arte, a unique underwater sculpture park.
Relax, soak up the sun, and do some beachcombing.
You can also rent golf carts to explore the island at your own pace. After a day of sightseeing, be sure to end it with a stunning sunset from one of Isla Mujeres' many beaches.
Dive into Cancun's Vibrant Nightlife
Still not sure what to do in Cancun? If you want to experience the best of Mexican culture and nightlife, look no further than downtown Cancun.
This bustling area offers plenty of exciting nightlife activities, from dancing in the clubs to grabbing a bite in one of the many street food stalls. You can also find live music, karaoke bars, and small, intimate venues to let loose and have some fun.
A few of the best destinations for nightlife in Cancun are the following:
Coco Bongo: A famous nightclub that mixes live shows with DJ music.
Mandale Beach Club: A beach club with a lively atmosphere and delicious drinks.
The Hotel Zone: Home to Cancun's most thrilling bars and nightclubs
It's important to dress appropriately when visiting nightclubs in Cancun, as many have specific dress codes. If you want to dive into the nightlife scene in Cancun, check out what's going on and dress accordingly.
Experience the Magic of Cancun's Cenotes
Another incredible aspect of Cancun is its stunning cenotes. For those who haven't heard of these before, cenotes are natural sinkholes that expose groundwater underneath. The Mayans used them for swimming, fishing, and religious ceremonies. Visiting one of Cancun's cenotes is a must-do activity.
Here are some of the best cenotes you should check out:
La Ruta de los Cenotes: The Road of Cenotes, also known as the Route of Cenotes, is home to some of the most amazing cenotes near Cancun.
Cenote Dos Ojos: This cenote is one of the most popular ones in Cancun, featuring many caves to explore.
Gran Cenote: This cenote is the perfect place for snorkeling and diving, as it has a large cave system.
Maybe these cenotes can spark some ideas if you are still wondering what to do in Cancun, Mexico. The cenotes are not separate pools but are connected to the same water source. This water comes from large freshwater rivers flowing beneath the Yucatan Peninsula. It's pretty cool, right?
Book Your Next Adventure Today and Discover the Wonders of Cancun
The magical city of Cancun, Mexico, with its guided tours, iconic beaches, and myriad attractions, continues to captivate and entertain visitors. From exploring Mayan ruins and swimming in breathtaking cenotes to unwinding on the beautiful beaches and diving into the vibrant nightlife, there is something for everyone.
However, the real joy of Cancun is discovering it all at your own pace. If you're still wondering what to do in Cancun when it rains, there are countless indoor activities and attractions to enjoy, like museums and shopping centers.
As you look forward to your Cancun adventure, remember that Caravan is here to make your trip effortless and memorable. Everything you need—from your lodgings to your activities—is included in one simple rate with no hidden costs or add-on worries.
So what are you waiting for? Experience the best of Cancun with Caravan! Call us now at 1-800-CARAVAN or internationally at +1-312-321-9800.
https://blog.caravan.com/wp-content/uploads/2023/09/shutterstock_2114994596.jpg
365
500
Brendan Duffy
https://blog.caravan.com/wp-content/uploads/2022/06/caravan-header-white.svg
Brendan Duffy
2023-09-15 15:05:29
2023-09-20 09:39:28
The Top Things To Do In Cancun