Best Beaches In Mexico For Families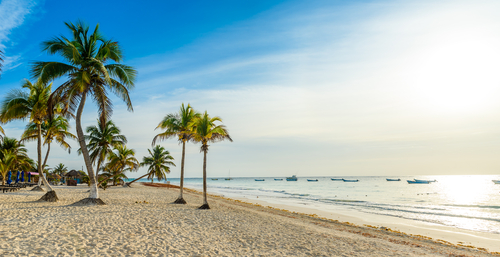 Are you dreaming of a family vacation that combines affordability, stunning landscapes, and an unforgettable cultural experience? Look no further than Mexico, home to some of the best beaches for families.
Imagine your family bonding over sandcastle building on the pristine beaches or learning to snorkel in the warm, azure waters abundant with vibrant marine life. Mexico's best beaches are beautiful and family-friendly, offering a myriad of activities to suit all age groups, from toddlers to grandparents.
Here, we will guide you through the best beaches in Mexico for families, ensuring your holiday will be one for the memory books.
Playa Mia Grand Beach Park
Located on Cozumel Island, Playa Mia Grand Beach Park is one of the best beaches in Mexico for families. This beach park offers something for the whole family, with activities ranging from snorkeling and swimming to volleyball and floating aqua parks.
This beach park is the biggest one in Cozumel! Enjoy playing on the beautiful sandy beach, take a refreshing swim in the warm Caribbean waters, savor delicious Mexican food, or pamper yourself at the spa right here.
Here are the other great things about Playa Mia Grand Beach Park:
Experience the thrill of glass-bottom kayaking.
Jet skis, parasailing, and banana boats are available for hire.
Enjoy live shows, music, and cultural activities.
Pool bars to keep you refreshed.
Water slides, playgrounds, and trampolines for the kids.
Lovers Beach
Lovers Beach, located in Cabo San Lucas on the tip of the Baja California peninsula, is one of the best beaches for families. This beach has a special atmosphere – it's peaceful and secluded, and you can often find wildlife like dolphins and turtles.
That's not all! Lovers Beach offers plenty of activities for families. The beach is great for snorkeling or sunbathing, while the nearby cliffs are ideal for rappelling and rock climbing. Plus, if you're looking for adventure, the nearby waters are ideal for fishing and kayaking. The beach is also great for swimming or simply lazing around under the warm Mexican sun.
If you're with little ones, make sure to stay away from the side where the powerful waves crash into the shoreline. You can relax on the calmer side while your kids have a great time playing in the sand and building castles.
Playa Las Animas
The perfect place to explore the best of Mexican culture, Playa Las Animas is also one of the best beaches for families in Mexico. This beach is known for its pristine white sand and crystal clear waters. The calm waters make it great for kids, so you can all relax and enjoy the beautiful setting.
In addition to swimming, there are a number of activities that your family can take part in at Playa Las Animas, such as:
Zip-lining
Parasailing
Hiking
Kayaking
The beach also has a number of restaurants and shops, so you can enjoy a great meal together or find souvenirs to take home. According to US News, visitors have mentioned that this beach is relatively less crowded compared to other popular ones like Playa de los Muertos, especially if you arrive in the morning.
Playa Paraíso
Playa Paraíso is the perfect destination beach for families. This beach is situated on Isla Mujeres and offers a fantastic white sand and crystal-clear water blend. It's also a great place to explore marine life – you can snorkel or kayak in search of dolphins, sea turtles, and various colorful fish.
Playa Paraíso is an amazing spot for its activities and the incredible attractions surrounding it, like the National Park of Tulum and archaeological sites. Situated on the stunning coastline of the Yucatan Peninsula, the park features well-preserved Mayan ruins and breathtaking cenotes. It's a must-visit destination that will leave you in awe!
Cancun Beach
If you're seeking a beach retreat packed with entertainment and activities, look no further than Cancun Beach. Widely regarded as one of Mexico's premier family-friendly beaches, it offers an abundance of fun and excitement for all. It's perfect for those looking to enjoy the sun and the sand, and its wide range of activities makes it great for all ages.
At Cancun Beach, you can relax on the shore or take part in exciting activities like:
Scuba diving
Jet skiing
Parasailing
Paddleboarding
Snorkeling
If you're looking for a unique experience, you can explore the nearby underwater museum or even take part in a boat tour of some of the best coastal sights. You and your family can also embark on a day trip to the nearby ancient ruins to delve into the country's rich history.
When you're feeling hungry at Cancun Beach, there are plenty of restaurants to choose from. Whether you prefer dining outside or indoors, these places have a diverse selection of delicious Mexican dishes that are sure to satisfy your taste buds.
Chankanaab Beach Adventure Park
Chankanaab Beach Adventure Park is the perfect beach destination for families. Situated on the island of Cozumel, this park offers plenty of activities and attractions that will keep everyone in your family entertained.
Chankanaab, derived from the Mayan language, combines "Chan," meaning small, and "Kanaab," representing the ocean or sea. A lagoon within the park is said to hold enchanting remnants of ancient Mayan civilizations.
Have a blast exploring a variety of activities, like watching manatees or having fun swimming with dolphins. You can also try out thrilling adventures like parasailing or snuba touring, a unique blend of snorkeling and scuba diving without prior experience.
Experience the Best Beaches in Mexico for Families With Caravan
Exploring the best beaches in Mexico for families is an exceptional way to spend your vacation, blending adventure, relaxation, and cultural exploration. Mexico boasts a wide range of family-friendly beaches, like Playa Mia Grand Beach Park and Chankanaab Beach Adventure Park, where you can soak up the sun or engage in recreational activities.
Ready for an unforgettable family beach vacation in Mexico? Call us today at 1-800-CARAVAN or +1-312-321-9800 to book your next adventure with us. Your perfect family getaway awaits! Let Caravan take care of all the details so you can make memories that will last a lifetime.
https://blog.caravan.com/wp-content/uploads/2023/09/shutterstock_747317032.jpg
257
500
Brendan Duffy
https://blog.caravan.com/wp-content/uploads/2022/06/caravan-header-white.svg
Brendan Duffy
2023-09-15 15:02:30
2023-09-20 09:40:24
Best Beaches In Mexico For Families