Best Beaches In Mexico For Couples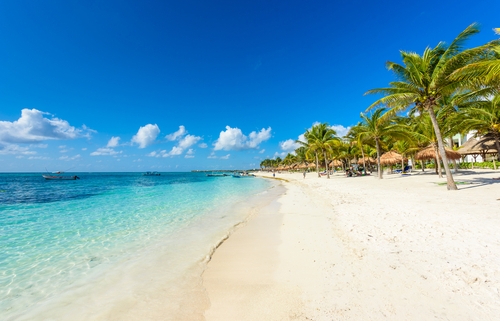 Visiting Mexico? Looking to sprinkle your trip with a touch of romance? Allow us to guide you to the best beaches in Mexico for couples. Imagine dipping your toes in warm, soft sand, gazing at a sun-kissed horizon, and savoring the tranquil rhythm of the waves with your better half.
Mexico's beaches offer a captivating blend of serenity and adventure, creating a romantic canvas for couples. Whether you're a young pair searching for a lively beach town or a more senior couple looking for relaxation, Mexico has the perfect spot. Stay tuned as we embark on this journey to discover the most enchanting beaches in Mexico for couples.
Punta Sur Eco Beach Park
Located on the island of Cozumel, Punta Sur Eco Beach Park is one of the most exquisite beaches in Mexico for couples. This nature reserve boasts secluded white sand beaches, perfect for a romantic stroll or a peaceful picnic. Take in the awe-inspiring views of turquoise waters that seem to stretch on forever and explore the diverse marine life in the bay.
Punta Sur offers a wide range of activities to suit everyone's preferences, including:
Scuba diving
Snorkeling
Kayaking
Looking to unwind? They also offer relaxing massages, a variety of restaurants, and a tequila bar for when you're in the mood for a bite or a drink. Couples will love the incredible sunsets and spending a romantic evening star-gazing.
Playa Carrizalillo
Playa Carrizalillo is a hidden gem on the west coast of Mexico, tucked away in Puerto Escondido. This beautiful beach offers an impressive view of the surrounding mountains and two pristine bays to explore.
The calm waters are perfect for swimming or kayaking, and the snorkeling sites are simply exquisite. You can also explore the jungle trails that line the beach or just spend a peaceful moment enjoying each other's company.
This beach is one of Mexico's most romantic destinations, perfect for couples looking for a romantic escape. It's also a beloved spot among locals, especially surfers.
Playa Del Amor
The name says it all. Playa del Amor is an exquisite beach treasure in the breathtaking Bay of Banderas, radiating enchanting allure and natural splendor. The secluded beach offers couples a tranquil retreat to share a special moment, surrounded by stunning views.
The beach features a cave resembling a crater, providing couples with a unique spot to explore and offering visitors an impressive view of the bay. Whether you want to stroll along the shore or simply admire the stunning landscape, Playa del Amor has all you need for an unforgettable romantic getaway.
Playa Tangolunda
For couples looking for a bit of adventure, Playa Tangolunda offers an ideal combination of party vibe and tranquility. This beach is located in the Huatulco region on Mexico's Pacific Coast, surrounded by gorgeous coves and lush landscapes.
Playa Tangolunda offers a one-of-a-kind beach experience in Oaxaca! Unlike other parts of the coastline, this beach is slightly set back, which means you'll find more gentle waves reaching the shore. It's the perfect spot for swimming, allowing you to enjoy the water without worrying about strong currents like in other places.
Playa Paraiso
Tucked away in the Riviera Maya, Playa Paraiso is one of the best beaches in Mexico for couples who want to relax. Surrounded by lush vegetation and white sand, this charming spot offers couples an out-of-this-world experience.
Here are some of the activities you can enjoy at Playa Paraiso:
Sunbathing
Swimming
Parasailing
Snorkeling or diving in the nearby cenotes (caverns)
Exploring the Tulum Ruins
Indulge in a delightful golf session with your partner at a nearby club, or savor a romantic stroll along the shore, basking in the awe-inspiring vistas. At the end of the day, couples can watch a mesmerizing sunset as they enjoy dinner in one of the beachfront restaurants.
Playa Norte
Playa Norte is the place to go for couples seeking a vibey beach. Located on Isla Mujeres, just off the coast of Cancun, this beach stands out for its stunning white sand and crystal-clear waters. Look no further if you're looking for a romantic spot to watch the sun disappear into the horizon.
Playa Norte is a haven for beach clubs, bars, and restaurants that offer a delightful array of traditional Mexican cuisine and delectable seafood dishes. Plus, make sure you don't miss the chance to go snorkeling and experience the incredible marine life beneath the surface!
Playa Maroma
Ah, Maroma! This beach is one of the most beloved spots along Mexico's Caribbean coastline and a favorite among couples. Its stunning dunes, calm waters, and lush mangroves make this spot stand out as an idyllic retreat for romantic getaways.
This is actually one of the few places in Mexico where you can discover a hotel offering overwater bungalows. You won't come across any beach clubs or bars here — instead, you'll find what you imagine when you think of a dreamy, tropical beach in paradise.
For the activities, couples will find a variety of options, such as:
Camel rides on the beach
Snorkeling and diving
Jet skiing
Dolphin spotting
Playa Los Muertos
Playa Los Muertos, or "the Beach of the Dead," is a popular beach located in Puerto Vallarta. Don't let the name deceive you; this spot radiates life and joy! Playa Los Muertos is great for couples looking for an energetic atmosphere.
The beach is truly amazing with its breathtaking view of the majestic Sierra Madre Mountains. The Old Town offers easy access to all streets, with a wide variety of fantastic restaurants, bars, and clubs to enjoy. On the beach, you can soak up the sun, take a refreshing swim, or even experience the thrill of jet skiing!
Discover the Magic of Beaches in Mexico for Couples With Caravan Tours
Mexico, with its stunning coastlines and vibrant culture, offers an array of breathtaking beaches perfect for couples seeking romance, tranquility, or adventure. Each beach is unique, boasting distinct charm and a treasure trove of experiences to explore.
Whether it's the tranquility of Playa Paraiso, the party atmosphere of Playa Los Muertos, or the secluded allure of Playa del Amor, there's something for every couple in Mexico. Remember, Caravan's tours are a perfect match for couples looking to explore the best beaches in Mexico!
With our affordable and all-inclusive rates, there are no worries about add-ons or options. Why wait any longer? Call Caravan now at 1-800-CARAVAN or +1-312-321-9800 to book your dream Mexican beach getaway!
https://blog.caravan.com/wp-content/uploads/2023/09/shutterstock_642212026.jpg
334
500
Brendan Duffy
https://blog.caravan.com/wp-content/uploads/2022/06/caravan-header-white.svg
Brendan Duffy
2023-09-15 15:11:07
2023-09-20 09:38:04
Best Beaches In Mexico For Couples