Manuel Antonio National Park Facts & FAQ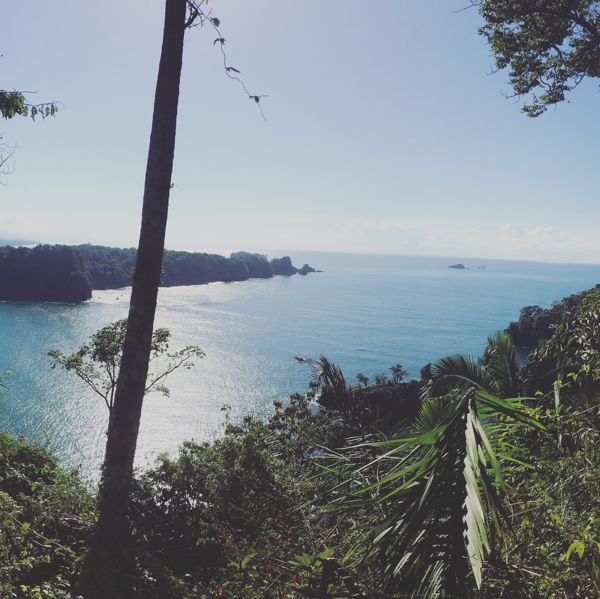 In this blog post exploring Manuel Antonio Park facts, Caravan Tours has also compiled answers to some of the most frequently asked questions we get asked.
For instance, despite being Costa Rica's smallest National Park, Manuel Antonio National Park remains a favorite must-see Costa Rica destination.
In fact, since Poas Volcano National Park Was Closed for a while due to recent volcanic activity, Manuel Antonio National Park is now the most visited park in Costa Rica, receiving 150,000 visitors each year, (on average, about 410 visitors each day).
You can also read a firsthand account of the Manuel Antonio National Park tour as told by a recent Caravan Tours' guest.
Manuel Antonio Park Facts & FAQ
Where is Manuel Antonio National Park?
Manuel Antonio National Park is located south of Quepos in the province of Puntarenas, on the west coast of Costa Rica. The park consists of 1983 hectares (7.66 square miles) of land and is situated within the Central Pacific Conservation Area.
How far is Manuel Antonio from San Jose?
Manuel Antonio Park is 106 miles (170 km) from San Jose, the capital city of Costa Rica, which is just over 3 hours by vehicle.
How far is Manuel Antonio from Jaco Costa Rica?
Manuel Antonio is just over 45 miles (73 km) from Jaco in the Puntarenas Province of Costa Rica. This is approximately 1 hour and 15 minutes by vehicle.
How many people visit Manuel Antonio each year?
Manuel Antonio National Park welcomes approximately 150,000 visitors each year.
Where to eat in Manuel Antonio?
One of the reasons Manuel Antonio is such a popular Costa Rica tourist destination is because it is easy to access and offers a variety of nearby local food and dining services.  You can visit Fodor's Travel guide to Manuel Antonio Restaurants for ideas on where to eat. On our Caravan fully guided Costa Rica tours, all meals and bottled water are included within your all-inclusive tour package.
Where to stay in Manuel Antonio?
There is actually only one hotel next to Manuel Antonio National Park called San Bada Hotel. Conveniently located right at the Park entrance, this Costa Rica hotel is also only a short walk from the park's public beaches.
There are other hotel options while visiting Manuel Antonio but most are built on the hillside and require numerous flights of stairs and walking. San Bada Hotel is the hotel of choice by Caravan Tours while in the area, as it is built on level ground and is located just short distance from the park entrance.
What kind of wildlife is in Manuel Antonio Park?
The diversity alone of Manual Antonio's wildlife rivals many of the other larger parks. Here are a number of other interesting Manuel Antonio Park facts. The park is home to 109 different mammal species and 180 bird species including:
Brown-throated three-toed sloths
Hoffmann's two-toed sloths
Mantled howler monkeys
Central American squirrel monkeys
White-headed capuchin monkeys
Green iguanas
White-nosed coati
Many different snakes and bat species
Toucans
Woodpeckers
Potoos
Motmots
Tanagers
Turkey vultures
Hawks
Can you snorkel on the beaches of Manuel Antonio Park?
There are four beaches within Manuel Antonio National Park offering large light sand berms. Two of these beaches (Manuel Antonio and Espadilla Sur) offer tidal pools where you can snorkel at times. Beware, riptides can occur. Other popular water sports at Manuel Antonio include scuba diving and sea kayaking. From November to April, Manuel Antonio also offers world-renowned deep-sea fishing opportunities.
Can you surf in Manuel Antonio?
Yes, you can surf in the Park. Although not a major surfing destination in Costa Rica there are some good breaks to check out near the town of Manuel Antonio. If you're a beginner, look up some local surf schools to learn how to get up on the board.
What is the entrance fee for Manual Antonio?
Currently, the Manuel Antonio National Park entrance fee is $16 for adults. Children under 12 years old are free. Additional options for guided tours and private tours are available at adult and child rates. The park fees are included with the cost of your Costa Rica all-inclusive tour.
What are the hours for Manuel Antonio?
Currently, Manuel Antonio National Park is open from 7 am to 4 pm Tuesday through Sunday. Note the park is closed on Mondays. For those wanting to avoid crowds, the park is typically less busy in the afternoon.
What should I do in Manuel Antonio Park?
Besides spending time at the beach or snorkeling, there is plenty to do on land! There are a number of rainforests tours available. You can also walk through spectacular beach coves, take an aerial tram tour or zip line tour with an eco-tourism company, visit local artisan shops, visit a butterfly garden, or catch views of wonderful local waterfalls. The list goes on and on for what you can see and do while visiting Manuel Antonio National Park.
About Caravan Tours
Caravan Tours is one of Costa Rica's leading all-inclusive tour companies and has been offering fully guided tours throughout the USA, Canada, and Central America since 1952. Our all-inclusive Costa Rica tours include a one night stay at San Bada Hotel with ample time to explore Manuel Antonio National Park and the surrounding area.
Read our Caravan customer reviews and testimonials on our Costa Rica reviews page.
For more Manuel Antonio Park facts or to book a Costa Rica tour, please call our Caravan offices toll free at 1-800-227-2826.
Request a free Caravan Tour Brochure
https://blog.caravan.com/wp-content/uploads/2019/03/manuel-antonio-park-lagoon-view.jpg
599
600
Carissa
https://blog.caravan.com/wp-content/uploads/2022/06/caravan-header-white.svg
Carissa
2019-03-26 11:55:38
2022-02-11 18:40:22
Manuel Antonio National Park Facts & FAQ