The Best Things to Do in Jasper National Park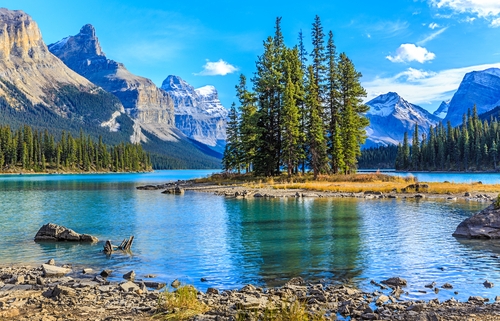 If you want a unique outdoor experience in Canada, head to Jasper National Park! From turquoise glacial lakes to snow-capped mountain peaks and beautiful wildlife, it is no wonder why this UNESCO World Heritage site continues to attract thousands of tourists each year. In the following blog post, we'll explore the park's best activities.
Whether you're an experienced hiker searching for adventure or simply someone who loves nature and wants to take in stunning landscapes – there are plenty of things to do in Jasper National Park! Your next unforgettable exploration awaits: learn more about what makes this national park special.
1. Whitewater Rafting
Ready to get your heart racing and experience Jasper National Park like never before? Hop on a raft and conquer those rapids! Even families will enjoy the Athabasca River's Class II rapids while staying cozy in provided wetsuits.
Feeling brave? Take on the Fraser or Sunwapta rivers, where the rapids reach Class III and will leave you breathless. Past adventurers rave about the stunning views and how fun it was for the whole family.
2. The Maligne Canyon
Looking for top things to do in Jasper National Park? Check out the Maligne Canyon, a narrow chasm that runs through the park for almost a mile. With a depth of over 150 feet and some sections only seven ft. wide, you'll be blown away by the unique geological features. Plus, the canyon is surprisingly lush with plant life.
If you're up for a hike, two trails guide you through this beautiful area. The shorter one takes you over four bridges, while the longer option includes two extra bridges and is slightly less crowded. Bear in mind that the parking lot near the trailhead fills up quickly, so try to arrive early.
Access to the canyon is included with park admission. Also, the trailhead area has the following amenities:
Restrooms
Gift shop
Maligne Canyon Wilderness Kitchen (an excellent spot for a tasty lunch or dinner)
3. Glacier Skywalk
Want to experience the ultimate adrenaline rush and one of the best things to do in Jasper National Park? You can't afford to miss the Glacier Skywalk! The skywalk spans the Sunwapta Valley at the park's southern end. Brave adventure-seekers get to step into thin air over the natural edge of a 918-ft cliff, with nothing but a glass floor underfoot!
Drive your way to Columbia Icefield Glacier Discovery Centre, park your car, and hop on the complimentary shuttle to transport you every 15 minutes to and from the Skywalk. Hours vary, but you can usually experience the thrill from mid-April to mid-October. Make sure to add Glacier Skywalk to your itinerary to commemorate the best adventure of your life!
4. Athabasca Falls
Fancy a trip to Jasper National Park? Be sure to check out Athabasca Falls! It is photo-ready and conveniently located next to the Icefields Parkway — only 20 miles south of Jasper's downtown. You won't have to hike up a mountain to find these falls – parking is available mere steps away.
Don't worry if the waterfall isn't the highest — its incredible flow more than makes up for it. Photographers love this place, as there are loads of spots to snap that perfect shot.
Want to take it easy? Plenty of nearby trails are perfect for taking in the scenery. Visitors agree – Athabasca Falls is a must-see spot in Jasper National Park. You won't need to clear your whole day for this spot but don't miss checking out all the viewpoints. One last thing — this amazing place won't cost you a dime!
5. The Jasper SkyTram
Ready for some jaw-dropping views in Jasper National Park? Jump on the Jasper SkyTram! In just over 7 minutes, you can fly high on Canada's longest and tallest guided aerial tramway. Upon reaching The Whistlers mountain summit, feast your eyes on the following:
Mountain ranges
Vivid rivers
Lakes
Even the town of Jasper
That's not all – with the company of one flight attendant (tour guide!), you'll get inside scoops, answer fun questions and point out hidden gems. Now, let's talk fashion! Past travelers suggest that wearing hiking shoes will give you an added advantage for hiking to the mountain's peak, where you can enjoy more stunning panoramas.
If you're planning your trip, the best time is on a clear, sunny day so you don't miss anything. The Jasper SkyTram is a quick detour from the Icefields Parkway and is only 5 miles south of the center of Jasper. The tram's operating hours vary according to the season, so it's good to check beforehand.
The tram is closed from late October to late March, so plan your trip accordingly. Trust us; you'll want to spend at least two hours here because this is one experience you sure wouldn't wanna rush!
6. Maligne Lake
Cruise or paddle through the world's second-largest glacier-fed lake, Maligne Lake, known for its turquoise waters and remarkable views of the Canadian Rockies, and include this in your top things to do in Jasper National Park.
Spirit Island is a must-see spot that can be reached by foot or rented watercraft. You can even join a motorcycle tour to visit this spectacular lake in Jasper National Park.
Even though this place is expensive, travelers who visited before advise you to carry a camera to take pictures of nature's beauty. Along with exploring, you can also rent a canoe, kayak, or rowboat to roam around the cool water body while enjoying its scenic beauty.
All-Inclusive Experience for the Best Things To Do in Jasper National Park
There is no better way to experience the beauty of Jasper National Park than with Caravan tours. With our all-inclusive services, you'll be able to experience all this Canadian gem has to offer without worrying about anything. Relax and enjoy the incredible scenery, spots for outdoor activities, majestic wildlife, and historical sites that make Jasper such a beloved park.
From getting picked up at your door to having all the equipment you need during your tour—everything is sorted out so you can just relax and enjoy! Explore with us and discover why Jasper is one of Canada's most popular treasured destinations. So don't wait! Call us at 1-800-CARAVAN or +1-312-321-9800 today to start planning your next once-in-a-lifetime memory at Jasper National Park!
https://blog.caravan.com/wp-content/uploads/2023/07/shutterstock_255015211.jpg
334
500
Brendan Duffy
https://blog.caravan.com/wp-content/uploads/2022/06/caravan-header-white.svg
Brendan Duffy
2023-07-18 12:18:27
2023-07-18 12:18:27
The Best Things to Do in Jasper National Park