Top Things to Do in Panama City, Panama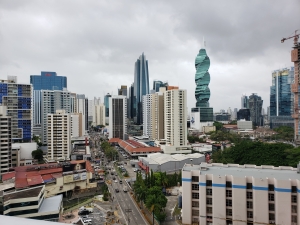 Are you looking to go on an unforgettable adventure in a tropical country? Do you want to lounge on the beach and want something new instead of your tedious day-to-day schedule? Then, the best place to visit in Latin America is Panama! 
It's a country filled with history and rich culture, making it an ideal tourist destination for travelers who want a little fun after retirement or just something they can do while they still have the time and energy.
But as someone who has yet to go to this paradise, you might wonder what kind of things to do in Panama City. So, get ready for an adventure! Feast your eyes upon historic monuments steeped in centuries-long symbolism, explore the diverse biodiversity that creeps through the jungles, take part in thrilling outdoor activities, or immerse yourself deep within vividly colorful street markets.
Whichever activity takes you fancy, let us guide you through all that Panama City has to offer!
All About Panama: The Amazing Facts 
Panama is a country in Central America where the infamous Panama Canal is located. It's also a country where North America meets South America, so it's famously known as the Crossroads of the Americas. It also boasts an exceptional economy with a very stable government. Furthermore, the Panama Canal became an important shipping route. Due to that, it's crucial as a trading base.
Panama has countless gorgeous activities to offer to their tourists. Some of these are as follows:
Magical coastlines

Soft-sandy beaches

Enormous active volcanoes

Jungles to explore
It has become a paradise for every nature lover. Additionally, its people and culture are a great mix that tourists will love. Locals will embrace you and welcome you no matter what.
What are the Best Things to Do in Panama?
Panama is one of the first countries that comes into people's minds when they consider touring Central America. And who could blame them? It's considered a haven for beach lovers. Plus, it has astonishing sights that every traveler will want to see. So when it comes to things to do in Panama City, Panama, there are numerous activities and places to visit where you can gather unforgettable memories along the way.
See the Ships Traveling Through the Panama Canal at Miraflores Locks
You'll be amazed at how gigantic the Panama Canal's shipping vessels can accommodate. You can take a boat ride and get an up-close look at the ships traveling through it. You can go to the Miraflores Locks, which is only 25 minutes away from Panama City, and it's worth the travel as it allows you to check out the world-famous shipping route from above.
Furthermore, Miraflores Locks has a small museum with a small restaurant where you can dine after exploring the five-story building. They also have a separate building where their IMAX theater is located. So you can watch a movie while you're there!
Take a Dip at Bocas Del Toro
Panama's main beach in the Caribbean sea is Bocas Del Toro. It's well-known for its soft and sandy white beaches where the crystal blue waters would dance as they washed up from the ocean. Most travelers that come here are young people. However, adults can enjoy the stunning atmosphere it offers as well.
You can take surfing lessons, dive with experts, or laze around the beach as you get your well-deserved tan. Furthermore, these activities are affordable. So you don't need to worry about emptying your pockets as you enjoy the view.
Don't Miss Cinta Costera
Cinta Costera is another one of the most popular hotspots in Panama City. Here, you can just walk around and admire the skylines. It has a mix of colonial and modern elegance. So you'll want to walk just by the sea with the skylines as your background.
It's where you will also see the infamous Panama colorful sign. So if you love taking pictures or videos, take a pose here and share it on social media for your friends to admire!
Take a Walk Down the Narrow Streets of Casco Viejo
One of the best things about Panama City is its rich historical architecture. The culture is also very predominant in every step you take, especially in Casco Viejo. Visiting the narrow streets will take you to places you have never seen before, which makes walking worthwhile. You'll discover ruins, colorful buildings, and so much more.
You can also opt to take a walk during the evening when these buildings are lit up. And for dinner time, restaurants set up their tables on sidewalks for that perfect romantic atmosphere. It's one spot that showcases Panama City in its most beautiful form.
Book a Tour to Panama City, Panama, With Caravan Tours
Now that you know what to do in Panama city, it's time to book your next tour. Fortunately, Caravan Tours is one of the most reputable touring companies in Chicago, IL. We have varied destinations in Latin America, such as Mexico, Costa Rica, and Guatemala. 
The best part is these rates are incredibly cost-effective. So the deals are a great value for money, and you can take your loved ones with you. Their promos already include accommodations, food, transportation, and fun activities. So, if you're considering visiting Panama City, don't hesitate to contact us. 
You can call us directly at 1-800-CARAVAN or +1-312-321-9800, and we'll help you find the best promo that suits you.
https://blog.caravan.com/wp-content/uploads/2022/06/caravan-header-white.svg
0
0
Brendan Duffy
https://blog.caravan.com/wp-content/uploads/2022/06/caravan-header-white.svg
Brendan Duffy
2023-03-08 00:38:50
2023-03-08 00:38:57
Top Things to Do in Panama City, Panama