Book Now for Caravan Tours 2023 Tour Dates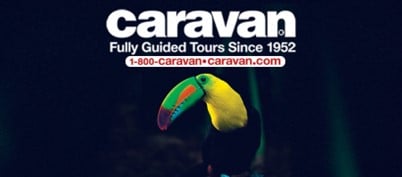 Caravan Tours 2023 tour dates for the United States, Canada and Central America are now open for pre-registration.
In 2023, Caravan will be offering 4 NEW incredible, fully guided tours including:
Montreal Canada (coming soon!)
US Historic (coming soon)
Plans are also in the works to be adding more amazing tours in the near future so watch for additional announcements in 2023!
More Exciting Caravan News!
New Website
During the pandemic, we've been keeping busy redesigning and launching our new Caravan website, including a much more mobile-friendly version.
New Booking Engine
Caravan Tours 2023 also has a new Online Booking Engine to better serve you. You can now book your Caravan tours online, from anywhere in the world, and at any time, 24/7.
Simply sign up on the Caravan login page and follow the prompts to book your Caravan tour online!
NEW Caravan Tours for 2023
It's back! Copper Canyon Mexico is one of our all-time most popular all-inclusive tours that always seem to sell out early.
Travel fully guided aboard private chartered rail cars as you enjoy one of the most scenic train tours through the 5 major canyons of Mexico, collectively known as Copper Canyon! The tour includes a 2-night stay at Posada del Hidalgo in El Fuerte Sinaloa, reputedly the birthplace of the legendary Zorro!
Explore Mexico's ancient Toltec and Mayan ruins at Chichen Itza, Uxmal, and the incredible archeological site at Teotihuacan.

Montreal Canada Tour
Caravan Tours 2023 in Canada will soon include our new fully guided Montreal tour with stops in Quebec City, Ottawa, Niagara Falls, and Toronto.
Tour Historic Places in United States
In 2023, Caravan Tours will also be adding our new U.S. Historic tour!
Discover the most amazing historic places in the United States: Washington DC, Richmond and Fredericksburg in Virginia, Colonial Williamsburg, and Philadelphia Pennsylvania.
Help Us Celebrate 70+ Years of Exceptional Tours
In 2022, Caravan Tours celebrated our 70th year (since 1952) offering fully guided tours throughout North America and Central America.
Check out our all-new Caravan vacations and help us celebrate the beginning of our next 70 years.
Caravan Tours 2023 Booking
Most experts agree that tourism and travel will remain vitally important in helping to rebuild our American economy. As restrictions ease and consumer confidence continue to build, we anticipate increasing bookings and travel.
Our office is open during regular business hours from Monday to Friday between 9 am and 5 pm Central Time USA.
Please call us toll-free at 1-800-CARAVAN to book or for more tour information.
We can also be reached locally in Chicago at 312-321-9800.
Why Travel with Caravan?
Caravan vacations offer exceptional value:
Family-owned and operated since 1952
70+ years of guided tours experience
Fully guided tours with professional tour directors
inclusive tours (itinerary hotels, meals, & excursions included)
Exceptionally affordable vacations
Great itineraries (complete polished vacations)
Thank you for your interest in traveling with Caravan Tours.
Secure Your Caravan Tours 2023 Tour Dates!
Please call us toll-free at 1-800-Caravan (227-2826) if you would like more information about any of our tours or to Check Tour Availability.
Visit our Booking Site to book your Caravan 2023 tour!