What to Bring on Your Banff National Park Tour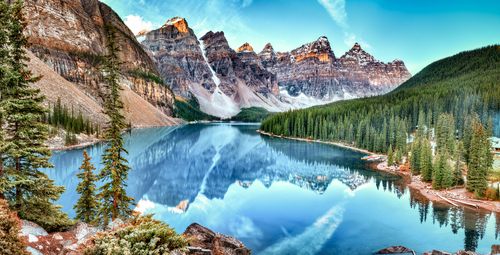 Ready to take on the majestic beauty of Canada's Banff National Park? Before you start packing, let us give you a hand! With over 6,500 square kilometers of mountain wilderness and countless activities available, planning for the perfect trip can be challenging since there are many things to do in Banff National Park.
Worry no more! Before you embark on your journey, some items should be at the top of your packing list — from comfortable garments to helpful gadgets. Remember everything as we take a closer look at the essential things to bring on your Banff National Park tour!
1.  Pack for the Weather
Remember to be prepared for any type of weather. Even in summer, the temperatures vary significantly between day and night, so you'll want to bring layers to stay warm when the sun goes down. A waterproof raincoat or anorak is also essential if you plan on exploring the trails during wetter months.
Remember a wide-brimmed hat, too — with all the outdoor activities available in Canada's first national park. It's important to protect yourself from too much sunshine! Don't forget a good pair of walking shoes that can handle rough terrain. You'll need them during your adventure!
2. Consider What You Need for Hiking
When hiking in Banff National Park, you want to ensure you have the right gear. Investing in a good pair of shoes is well worth it – the last thing you want is blisters on your first-day trekking! If you plan long hikes, trekking poles can be incredibly helpful for navigating tricky terrain and keeping a steady pace.
Don't forget to bring snacks with you, too that can give you the fuel you need for long trails:
Energy bars
Nuts
Other light snacks
Preparing won't just help keep your energy up but will also ensure that your trip goes as smoothly as possible! Additionally, if you plan on exploring some of the most remote parts of the national park, you'll want to bring a few extra items.
A map and compass are essential for navigating your way through unfamiliar terrain. Getting plenty of water and extra layers is also important in case of sudden weather changes. When hiking in Banff National Park, being prepared is key!
Finally, don't forget to pack:
Bug spray
Sunscreen
Lip balm
A hat
These items can make all the difference in an enjoyable experience outdoors! With the right equipment and supplies, your next tour of Banff National Park will be an unforgettable adventure.
3.  Don't Forget Your Camera or Smartphone
When it comes to things to do in Banff National Park, you'll want to make sure you have the right gear. Be sure to bring a camera or smartphone to capture this stunning national park's incredible sights and sounds!
From majestic mountains and pristine lakes to wildlife sightings and hiking trails, plenty of photo ops will have you wanting to take more snapshots than ever before. After your tour is finished, you'll be able to look back on these treasured memories for years to come! Always pack up your camera or smartphone when touring the park. It will make your trip even more memorable!
4. Think Comfortably
When visiting Banff National Park, make sure to think comfortably and wear breathable clothing appropriate for any weather conditions. This way, you can explore and enjoy all of the fantastic things to do in Banff without sacrificing comfort!
From taking a scenic drive through the mountains to going for a hike or walk, there are many ways to immerse yourself in the beauty of this national park. You can keep up with all your adventures with comfortable clothing suitable for any season, so plan and pack smartly!
5. Fully equipped with First Aid Kit
A first aid kit is necessary for any outdoorsy adventure and things to do in Banff, Canada. Whether taking a scenic hike on the mountain trails, rafting down the Bow River, or simply exploring the city streets, having a handy first aid kit is essential to ensure your safety.
It should include all necessary items to treat minor injuries, such as bandages and antiseptics to protect you from environmental hazards. Be sure always to keep it fully stocked and with you when adventuring in this beautiful corner of Canada! You never know when an unexpected accident could occur – so be prepared by keeping your first aid kit close!
6. Get an Even Closer Look With Binoculars
If you already have a list of things to do in Banff and want an even closer look at the park's beauty during your tour, consider bringing a pair of binoculars. Binoculars will help ensure you don't miss any of the park's scenic wonders!
Whether spotting a herd of elk grazing in the meadows or watching a bald eagle soar above you, binoculars will give you an up-close and personal experience with nature. Not only can they be used for wildlife watching, but they can also be used to marvel at the stunning vistas Banff offers from afar.
7. Fun Extras
To make the most of your time in this awe-inspiring mountain paradise, it's worth bringing some fun extras that will help enhance your trip. A thermos or portable coffee maker will be helpful for those early morning hikes when a hot drink is needed to get you going.
If camping is part of your plans, remember to bring a campfire cooking set to enjoy some delicious gourmet meals while enjoying the stunning views. If you have extra space, why not take an inflatable kayak or canoe to explore the inland waterways?
Pack a hammock and hang it between two trees for some serious relaxation time. Then sit back, relax, and enjoy watching the stars come out at night! There are tons of things to do in Banff, Canada, for everyone, and these fun extras will help make your trip truly unforgettable.
Experience Canada's Banff National Park Like Never Before With Caravan Tours!
Now that you know exactly what to bring with you on your Banff National Park Caravan tour, all you have left to do is book your trip! Caravan is the CostCo of tour companies that will provide exceptional views, memories, first-rate comfort, and convenience.
Indeed, this once-in-a-lifetime voyage could be a major highlight in your life – so don't miss out! Whether a solo trip or a family outing, this Canadian landmark has something for everyone. The beauty of the landscape, the variety of activities, and the accommodating accommodations all make it an unforgettable experience.
Now that we've broken down what to bring on this fantastic expedition, all that's needed is for you to call us at 1-800-CARAVAN or +1-312-321-9800 and book today! Adventure awaits!
https://blog.caravan.com/wp-content/uploads/2023/07/shutterstock_506012695.jpg
255
500
Brendan Duffy
https://blog.caravan.com/wp-content/uploads/2022/06/caravan-header-white.svg
Brendan Duffy
2023-07-18 12:12:37
2023-07-18 12:12:37
What to Bring on Your Banff National Park Tour