Day 1 of Our All Inclusive Caravan Costa Rica Tour
Well, today we begin our Caravan Costa Rica tour and it really is a "natural paradise." It's a beautiful sunny day with just a little cloud and about 80 degrees Fahrenheit (27 degrees Celsius). Not bad considering when we left Vancouver Canada to take this all inclusive Costa Rica tour it was about minus 3 Celsius (26 F) and we had about 15 or so centimetres of snow (6 inches) on the ground.
Airport Pickup Included
We were greeted at the San Jose airport by Caravan Tours' friendly representative Sergio, who made sure we found our shuttle bus okay. Then, it was a quick 30-minute ride to the amazing Hotel Intercontinental San Jose. The staff here are excellent, and our rooms are perfect. This hotel deserves its 4-star rating. The dinner was really great with lots of choices…and we met with our own personal Costa Rica tour guide, Paul Valverde (pictured here), who gave us a quick orientation on what to expect on this all inclusive Caravan Costa Rica tour.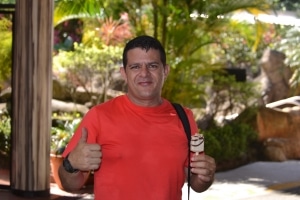 Paul has been a Costa Rican naturalist guide for the past 23 years and has been working with Caravan Tours for the last 12. He's fun, and very personable, so I'm sure we will learn more than we could ever have imagined about this little Central American country called Costa Rica…really looking forward to it.
Tomorrow, I'll write a recap of everything we experienced throughout the day. I'll do the same in this daily blog for each day of our Caravan Costa Rica tour so I have a running record of this amazing trip…hope you like it as well.
Tomorrow we visit the artisan town of Sarchi plus a coffee plantation!
Until tomorrow…
~ Lee K.
0
0
Carissa
https://blog.caravan.com/wp-content/uploads/2022/06/caravan-header-white.svg
Carissa
2016-12-29 03:40:11
2022-01-07 18:18:40
Day 1 of Our All Inclusive Caravan Costa Rica Tour