Top 7 Things to Do in Glacier Park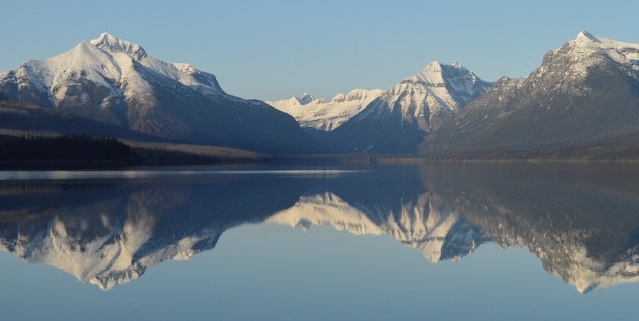 Are you looking for an escape and adventure? Glacier National Park is the perfect destination for a long weekend or a week-long trip. With over 1 million acres of wilderness, glacier-carved peaks, pristine alpine lakes, and abundant wildlife, Glacier Park has something for everyone.
From scenic hikes to whitewater rafting adventures on the Flathead River, horseback riding along picturesque trails to fishing in remote waters, boat cruises through wildflower meadows, to campfires beneath the stars – there are countless ways to experience this majestic landscape! Join us as we explore all the top things to do in Glacier National Park!
1. Drive to the Sun Road
You can't visit Glacier National Park without hitting the epic Going-to-the-Sun Road. This 51-mile scenic drive winds and twists through the park, leading you to the most fantastic hiking trails, lodges, and summer hangouts. As you drive along cliffs and sharp turns, keep your wits about you.
The road's highest point is at Logan Pass Visitor Center, where you'll also cross the epic Continental Divide! Don't even think about driving here from fall to spring – the road is closed due to snow and rough weather. Be sure to show up from mid-June to early October if you want to blaze a trail along Going-to-the-Sun Road.
2. Explore Lake McDonald
Who's up for exploring Lake McDonald? One of the best things to do in Glacier National Park is to visit the biggest lake and definitely the heart and soul of fun on the bustling west side. The valley was shaped by massive glaciers a zillion years ago and is where you can find the super cool Lake McDonald Lodge — a total fan favorite among the park's accommodations.
There are also some historic chalets to check out, plus tons of activities like bus tours, boat tours, horseback riding, and ranger presentations. Two of the top hikes in the area are the Avalanche Lake Trail and Trail of the Cedars, so lace up those hiking boots and let's go!
3. Visit Avalanche Lake Trail
Are you looking for a fun hike in Glacier National Park? Try the Avalanche Lake trail – everyone loves it! You'll start by crossing Avalanche Gorge, followed by an easy-to-moderate trek in the forest. Waterfalls and rushing water are a treat for your senses and an excellent spot for your selfie.
The trail's end is the real deal — beautiful Avalanche Lake surrounded by cliffs and falling gray crags. Not too tough. Even little kids can make it! Just watch your step: rocks and tree roots cross the trail, so there is no tripping.
4. Check Highline Trail
Ready to work those glutes and quads? Hike the Highline Trail for a wild adventure! This challenging 11-mile round trip will take you along the Continental Divide and through panoramic views of:
Glacier valleys
Alpine Meadows
Garden Wall
Oh, the Garden Wall! Brace yourself for this narrow and thrilling section of the trail with a hand cable for safety. Not for the faint of heart! If you're not up for it, don't worry, you can still enjoy views of the Garden Wall on the Garden Wall Trail that branches off near Granite Park Chalet.
5. See and discover Apgar Nature Center
One of the things to do in Glacier National Park is to stop at this visitor center to get the inside scoop on the park's latest buzz. Get more details on:
Bear sightings
Road conditions
Weather conditions
Trail closures
Don't forget to check out the junior ranger programs and the awesome activities families love. The restaurant is impressive, and the helpful staff and free Wi-Fi are super clutch. There's free parking for shuttle service and park tours too. Hit up the center every day from 10 a.m. to 4 p.m., from mid-June to late August, and catch a ride on the park's free shuttle from Apgar to Logan Pass.
6. Experience Trail of the Cedars
Are you ready to experience the only wheelchair and stroller-accessible trail in the park? Trail of the Cedars has got you covered! Luckily, it starts and finishes on Going-to-the-Sun Road, which makes it easy to start from either end of this loop trail.
The trail takes you through a vibrant, aromatic old-growth red cedar forest that will awaken your senses. Ready for the real thrill? Cross the footbridge over Avalanche Creek to witness the stunning views of the gorge and waterfall.
Adventurers have been raving about the Trail of the Cedars and one of the best things to do in Glacier National Park, insisting it's the best walk in the park. Unsurprisingly, the hike is easy, wheelchair-friendly, and provides unbeatable views.
To avoid crowds, go early in the morning or late in the day. The picnic sites at McDonald Creek provide ample chance for a pit stop. Take a deep breath and let the cedar scent of the old-growth forest energize you. And the best part? You can access the trail free of charge when you enter the park.
7. The Logan Pass
If you're looking for some incredible scenery, exciting hiking trails, and things to do in Glacier National Park, Logan Pass is the place to go! Drive your vehicle to the highest elevation spot, and cap off at 6,466 feet in the park.
Check out Highline Trail or Hidden Lake Trail for a fantastic hike with new friends such as wildflowers, fish, mountain goats, and bears! Don't forget the visitor center with maps, trip-planning information, and ranger-led guided hikes.
They've got great things like bathrooms, water fountains, and bookstores, and if you're lucky enough, you might catch the attention of a cute park ranger! Remember binoculars for spotting the cute animals all around the park!
Discover Glacier National Park with Caravan
It's no secret that Glacier National Park should top the list of everyone's must-visit destinations. There's something magical about its snowy mountains, glistening valleys, and lush forests that will leave you feeling awestruck and inspired. With Caravan Guided Tours, you can bask in its beauty and truly immerse yourself t in its wonders.
From snowshoeing to star gazing, we offer a unique way to experience Glacier National Park that you won't find anywhere else. Each tour has been designed to ignite your inspiration and leave you with lasting memories you'll cherish forever.
So don't wait any longer — call us at 1-800-CARAVAN or +1-312-321-9800 to start planning the perfect outdoor adventure for you or your family!
https://blog.caravan.com/wp-content/uploads/2023/07/pexels-pixabay-326256.jpg
425
639
Brendan Duffy
https://blog.caravan.com/wp-content/uploads/2022/06/caravan-header-white.svg
Brendan Duffy
2023-07-18 12:05:31
2023-07-18 12:05:31
Top 7 Things to Do in Glacier Park